Welcome to my Nifty Income page.  
The Objective
Trading the Nifty is very comfortable for the reasons that it is liquid, voluminous and more trader participation.  Nifty has given a returns of over 28 per cent over the last 3 years.  Nifty futures is more affordable and has a clean trend, up or down.  Technically, Nifty rarely goes in sideways, otherwise it is easy to trade with volatality in Nifty.  Nifty trades gives me an opportunity to significant gains while it takes very little from me, due to my trade setup and risk to reward management systems. My intent is to have a consistent income, just like the salary and I am focussed to achieve this.
Trade Rules
I'll have a capital of INR 100,000 and make one trade a day.  Whether I buy three lots or four lots, I will stick to my trading numbers to one per day.  The stop loss will be placed as per the volatality number using this formula.
Price range = (Price * volatility * square root of day) /square root of 365
Once I see the price action moving in my direction, the first target is to shift the stop loss to its breakeven+charges and rest of the trades are free trades.  I'll close the trade at the end of the day. Or I will allow the stop loss to be hit by the market, whatever that comes my way is good enough, so I will not expect how much I should be earning.  By this strategy, I remove the emotions and greed and I will only adjust the stop loss once now and then.
What I Don't Do
I do not chase the market
I do not adjust the stop loss to widen
I do not make more than one trade a day
I do not keep stairing the terminal
I trade completely in my subconscious mind, exactly as per the trade system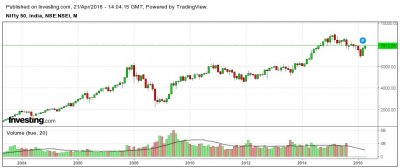 Nifty Outlook for June 2017
The long trend of the Nifty is bullish, carrying a small premium.  As long as Nifty is holding 9480 levels, look out for buying opportunities.